As a Christian, you can impact others for Christ without ever leaving home through a blog! Whether you are using blogging as a ministry, business, or both, it is a way to change the world and accomplish your dreams. Here are my blogging resource recommendations!
Disclaimer: Affiliate Links are present on most blog pages, including this one, which just means that, at no extra cost to you, if you click on a link and make a purchase, I may get a small commission.
You can trust me to give my honest recommendations and opinions, and always recommend only what I use and know will benefit you. Your purchase supports this blog and my ministry, so thank you for clicking on the links and following through to make a purchase.
Whether you are starting a blog, or have been blogging for awhile, I hope you'll check out the resources below. Click on the links for more information.
My Readers' Favorite Posts
Longing to be closer to God? To have a deeper relationship?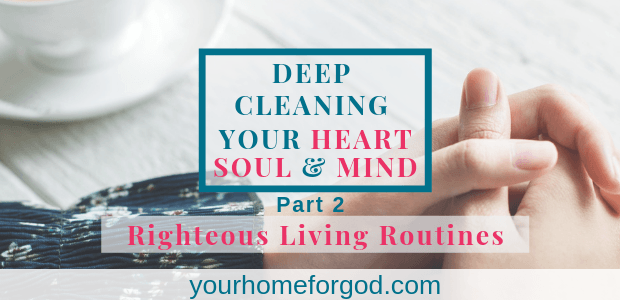 Deep Cleaning Your Heart, Soul & Mind: Righteous Living Routines
Quiet Time
Read-aloud Character-building Books for Kids
How To Do It and Blogging Resources I Recommend
Here are the people and resources that I highly recommend if you are a blogger or want to start a blog, with a little more explanation about how to do it and the resources.
Blog Hosting
You will want to design your blog, get a theme, etc., but getting hosting is the first thing to do: I recommend BlueHost. If you are serious about blogging, I recommend you start with a WordPress (.org) and self-hosted blog.
I recommend you pick a domain name (you can name it your name, or a keyword-rich name related to your topic, or something clever that resonates with your ideal reader) but, whatever you name it, purchase all the variables of that name (e.g. I have yourhomeforgod.com, as well as .net and .org). This is insurance, since then, no one can steal your name–it's yours! And, your content is yours, as well. 
As a blogger, you need to grow your email list. ConvertKit is my number one recommendation for an email service provider! Read my testimonial of what ConvertKit did for me here! I am so impressed with their professionalism and their customer service is second to none, which is something you don't see anymore, so I'll sing the praises of ConvertKit. They're the best.
I love how easy it is to make high-converting, beautiful Landing pages on ConvertKit! I love being able to tag and keep track of the interests of individual subscribers, so they get information on what they're specifically interested in. You won't be disappointed with ConvertKit. 
If you're serious about blogging and planning on making money and growing, start right out with ConvertKit. As with most things, there is a little learning curve, so be prepared. But, they have great documentation and training and help you all the way.
Ivory Mix Images for Your Blog
We live in a visual world! We often don't even bother to read what's written, but we remember the images! This is part of your branding! You want to be instantly identifiable and recognizable just by looking at your images! And, you want to stay out of copyright infringement! 
My recommendation, if you want a blog that's beautiful, up-to-date and classy, is to go to Ivory Mix for professional, beautiful images! I use Ivory Mix for virtually all the images on my blog! There are free options at the beginning. Kayla Butler does amazing work! Check out Ivory Mix!
Stock Photos You'll Love from Ivory Mix
Katie Hornor, Blogging Successfully, and The Blog Connection 
Katie Hornor at Blogging Successfully, has been the biggest help to me in learning and taking it to the next level! She gives 300%! God used her to focus my message more than anyone. I highly recommend you take her courses, listen to her advice and join The Blog Connection, if you're a Christian blogger with a message you feel called by God to get out.
Watch her videos, learn from her courses, and apply her advice. That has benefited me enormously, and it was the best decision I made in blogging. Katie combines spiritual wisdom and a heart for God with blogging and business savvy. The Blog Connection has been instrumental in teaching me the specific nuts and bolts of how to build a blog that is both ministry-minded and business minded.
The Blog Connection. If you want to make a difference through blogging, and you are a beginner to intermediate blogger, definitely check out The Blog Connection! I hope you'll join us! ​Get on the list for the next Open Enrollment! If not now, then when?
Doing Business With God was one of the best courses I've ever taken. Part Bible Study, part business training, led by Katie Hornor, with lots of personal attention and help. If you are a Christian woman blogger or entrepreneur, it is the best. It is offered a few times a year. Check it out to see when it will be offered next.
Join Activate Business Coaching When You're Ready To Start Making Money
When you're ready to step it up to the next level, join Activate with Ruth Soukup. This business coach helped me within 4 months begin to earn 4 figures a month from my business. You will have serious business coaching when you're ready to get serious
To Recap
Whether you are just starting a blog or have been blogging for a while, these are great resources.
Don't forget to Subscribe to get your Free Checklists for Consistent Routines today!
Have a Great Day Making Your Home For God!
I help Christian moms raise their kids according to Biblical principles, get organized to manage life, achieve their unique God-given goals and dreams, and fulfill God's purpose for them to make a difference in the world through my workshops, courses, and coaching founded on Biblical principles. You are already successful in many areas. I can help you in those that you're not. Dream big dreams, and see God transform and use your life in amazing ways! Let's work together for your success!
In Your Home For God's Store, discover resources to help you get organized, raise Godly kids, and have the support and encouragement to know who you are, know what God wants you to do to fulfill His purpose for your life, and achieve His unique goals for you!
Subscribe to My Youtube channel for more Encouragement and Tips! New videos every Tuesday and Thursday!