Your Home For God
As a Christian, you can impact others for Christ without ever leaving home through a blog! Whether you are using blogging as a ministry, business, or both, it is a way to change the world and accomplish your dreams. Here are my blogging resource recommendations!
Affiliate Links are present on most pages of my blog, including this one, which just means that, at no extra cost to you, if you click on a link and make a purchase, I may get a small commission.
You can trust me to give my honest recommendations and opinions, and always recommend only what I use and know will benefit you. Your purchase supports this blog and my ministry, so thank you for clicking on the links and following through to make a purchase.
Whether you are just starting a blog, or have been blogging for awhile, I hope you'll check out the resources below. Click on the links for more information.
My Readers' Favorite Posts
Thanksgiving Book Recommendations
Longing to be closer to God? To have a deeper relationship?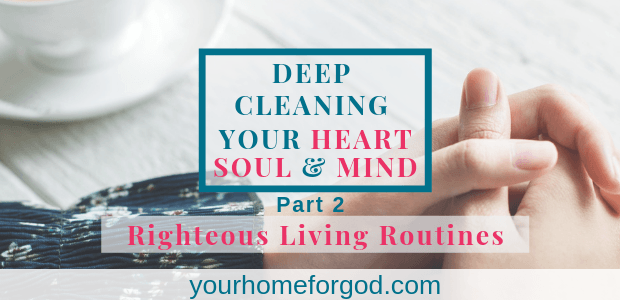 Deep Cleaning Your Heart, Soul & Mind: Righteous Living Routines
Quiet Time
Read-aloud Character-building Books for Kids
Get your FREE Library of Pretty Printable Scripture Cards Today! Begin to have success in having a Christ-centered home, thinking on Scripture throughout your day, and teaching your children Bible verses effortlessly!
How To Do It and Blogging Resources I Recommend
Here are the people and resources that I highly recommend, if you are a blogger, or want to start a blog, with a little more explanation about how to do it and the resources.
Blog Hosting
You will want to design your blog, get a theme, etc., but getting hosting is the first thing to do: I recommend BlueHost. If you are serious about blogging, I recommend that you start with a WordPress (.org), and self-hosted blog.
I recommend you pick a domain name (you can name it your name, or a keyword-rich name related to your topic, or something clever that resonates with your ideal reader) but, whatever you name it, purchase all the variables of that name (e.g. I have yourhomeforgod.com, as well as .net and .org). This is insurance, since then no one can steal your name–it's yours! And, your content is yours, as well.
As a blogger, you need to grow your email list. ConvertKit is my number one recommendation for an email service provider! Read my testimonial of what ConvertKit did for me here! I am so impressed with their professionalism and their customer service is second to none, which is something you don't see anymore, so I'll sing the praises of ConvertKit. They're the best.
I love how easy it is to make high-converting, beautiful Landing pages on ConvertKit! I love being able to tag and keep track of the interests of individual subscribers, so they get information on what they're specifically interested in. You won't be disappointed with ConvertKit.
If you're serious about blogging and planning on making money and growing, start right out with ConvertKit. As with most things, there is a little learning curve, so be prepared. But, they have great documentation and training and help you all the way.
Ivory Mix Images for Your Blog
We live in a visual world! We often don't even bother to read what's written, but we remember the images! This is part of your branding! You want to be instantly identifiable and recognizable just by looking at your images! And, you want to stay out of copyright infringement!
My recommendation, if you want a blog that's beautiful, up-to-date and classy, is to go to Ivory Mix for professional, beautiful images! I use Ivory Mix for virtually all the images on my blog! There are free options at the beginning. Kayla Butler does amazing work! Check out Ivory Mix!
Stock Photos You'll Love from Ivory Mix
Katie Hornor, Blogging Successfully, and The Blog Connection
Katie Hornor at Blogging Successfully, has been the biggest help to me in learning and taking it to the next level! She gives 300%! God used her to focus my message more than anyone. I highly recommend you take her courses, listen to her advice and join The Blog Connection, if you're a Christian blogger with a message you feel called by God to get out.
Watch her videos, learn from her courses, and apply her advice. That's what has benefited me enormously, and it was the best decision I made in blogging so far. Katie combines spiritual wisdom and a heart for God with blogging and business savvy. The Blog Connection has been instrumental in teaching me the specific nuts and bolts of how to build a blog that is both ministry minded and business minded.
The Blog Connection!
The Blog Connection. If you want to make a difference through blogging, and you are a beginning to intermediate blogger, definitely check out The Blog Connection! I hope you'll join us! ​Get on the list for the next Open Enrollment! If not now, then when?
Doing Business With God was one of the best courses I've ever taken. Part Bible Study, part business training, led by Katie Hornor, with lots of personal attention and help. If you are a Christian woman blogger or entrepreneur, it is the best. It is offered a few times a year. Check it out to see when it will be offered next.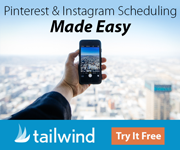 If you're a blogger, Pinterest will become the number one source of traffic to your blog. You can get a business account for free. Once you have set up your boards, and have started up your blog, (even before in some cases), then, you need Tailwind to get serious about scheduling pinning to your Pinterest boards. And! Now you can get Tailwind for Instagram, too–a game-changer! Get Tailwind.
This tool, Tailwind, for scheduling your Pinterest pins and finding others in your niche is invaluable! This has seriously reduced the time it takes me to be active on Pinterest, has exponentially increased my traffic, and brings a steady stream of people who are truly interested in what I'm blogging about! Tailwind Tribes connects you to other bloggers who are producing content that you can and will want to share, as well as your own. After signing up for Tailwind, my monthly Pinterest visits went from 4K to 104K in a matter of months and now it's over 200k visitors monthly!
To Recap
Whether you are just starting a blog, or have been blogging for awhile, these are great resources.
My Pinterest Boards:
Blogging and Building a Money Making Blog
Find a wealth of information on my Blogging Pinterest Boards. Check them out: Blogging, and Building a Money-making Blog.
P.S. Get my New Video Course, "Raising Godly Kids"! Recently reduced price. It will be life-changing. I promise. (But, there's a 30-day 100% money-back guarantee, so there's no risk to you.) Check it out.
Don't forget to Subscribe to get your Free set of Character Quality Cards, (everything you need to know is there to begin Character Evaluation times with your kids) and Pretty Printable Scripture Cards that coordinate to help you get your kids memorizing Bible verses easily!
I help Homeschool moms know God better, know their worth and potential as women uniquely-created-by-God, stop comparing themselves and copying other moms and families, and teach them how to raise Godly kids who will rise up and call them blessed someday, through Mentoring, Coaching, Courses and Ebooks.
Join me and 700+ members of my Facebook Group to Make Your Home For God, for Like-minded encouragement and sharing! @facebook.com/groups/309022912584774
You can also find me and encouragement Here: Please follow, Share and subscribe!
Click to Share this post on Facebook, Pinterest, Instagram, Twitter. You might also like my Facebook live videos. Follow my Pinterest Boards: Spiritual Life, Encouraging Words, Homemaking, Parenting and Homeschooling on Pinterest. You'll find helpful info for your home and family. Let me know what specifically you're struggling with. I'm praying for my subscribers!
@pinterest.com/WendyGunnTitus2
@facebook.com/wendygunnyourhomeforgod
@instagram.com/wendygunnyourhomeforgod
Your Home For God Blog: yourhomeforgod.com
Contact me at: [email protected]