Deep Cleaning Your Heart, Soul and Mind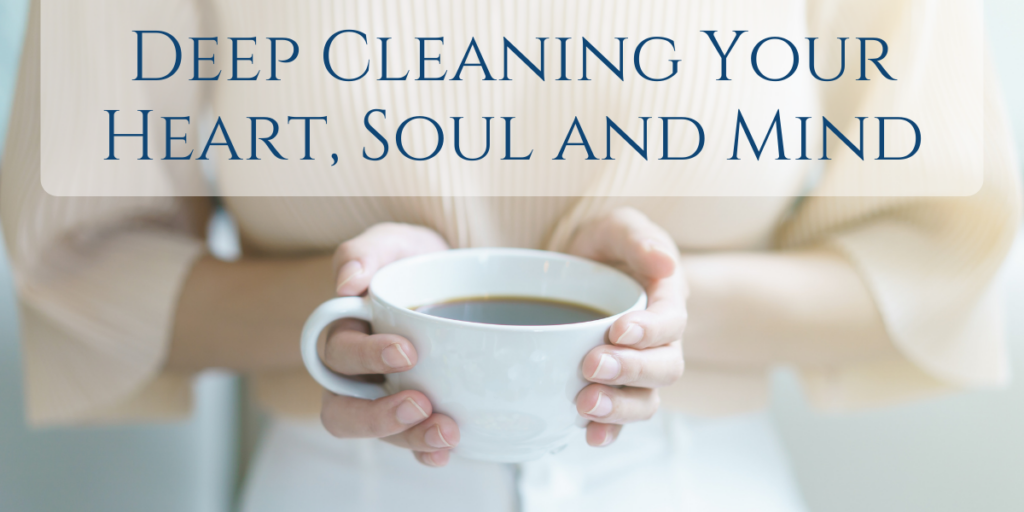 We're going to talk about cleansing your heart spiritually and purifying your heart in this post. This is absolutely related to How to be Saved through Jesus Christ!
Deep cleaning your heart can be compared to spring cleaning or fall cleaning your house to make it easy to understand. Twice a year in our great-grandmother's time, consistently, you would deep clean if you were a self-respecting wife and homemaker!
Do you have spiritual goals? Do you desire a closer walk with God? Do you set goals to be consistent in that area but struggle? Do you also struggle to get organized in your home, time, and life? Subscribe to get myfree Checklists for Consistent Daily Routines, purchase my Busy Mom Organized Life Workshop, and get my Mastering Your Goals Course. My resources will help you achieve God's unique goals for your life!
Let's talk about housecleaning first to see the analogy more clearly. We call it spring cleaning or fall cleaning, though it isn't as common a practice in our day as it was in our great-grandmother's day. Do you prioritize spring cleaning or fall cleaning? Do you consistently clean and get into the corners? Possibly not. But do you make it part of your routine to declutter and clean? Probably yes, or you see the need to. Let me ask you, then: When's the last time you looked into the corners of your heart and did a deep clean spiritually?
In the Old Testament, the Jews were commanded to deep clean their house of all yeast in preparation for the Passover. Yeast was a symbol of sin. Because women baked their own bread, tiny particles of yeast were everywhere! It took a major effort of housecleaning to get every tiny bit of yeast cleaned out. This is how we are to look at sin in our lives!
Purifying our hearts requires giving God every corner of our hearts. Allowing God into my heart means He is allowed to cleanse me spiritually in every corner, rid me of sin, and completely clean my heart, soul, and mind.
Analogies are powerful tools to help us see things we might miss otherwise. Let's look at an analogy between deep cleaning your house and spiritually deep cleaning your heart, soul, and mind.
Disclaimer: there are affiliate links here, which means that at no extra cost to you, I may receive a small commission if you click on a link and it leads to a purchase. Be assured that I will only recommend things that I use myself and love or I know will be excellent and beneficial to you!
As you think of this analogy between deep cleaning your house and deep cleaning your heart, realize that you don't do a one-time cleaning, and it's done forever! It's something we have to do repeatedly, isn't it? We consistently clean and declutter if we're going to keep a clean house. We must think about it all year long and have an intentional plan to prioritize cleaning and organizing. We can't ignore the dirt. If we do, it only gets worse. That goes for the heart as well as the home.
Today, related to the heart, we'll talk about two areas to keep it clean and some analogies I see, but I'm sure you could come up with many more! Click on the links to read the associated posts: are you a backsliding Christian? Is anxiety eating you up inside?
Clean out worldliness

Purge what is destroying you inside
Read about the third area in Part 2 of this post, Righteous Living Routines.
I. Clean out worldliness
It's amazingly simple for a person's heart to backslide into worldliness. To hear the Lord speaking to you about sin and be too busy, tired, or stressed (translation: anxious) to want to deal with it and ignore the Holy Spirit's voice.
Let's call this heart attitude what it is: Sin! Disobedience!
Your Heart and Emotions Should Not Be Trusted
One problem that is common for all is catering to our emotions. You feel lonely, but instead of going to the Lord and His Word and prayer, you sit down and tune into Netflix.
You've had a hard day or week, but instead of telling all your troubles to Jesus, you decide to feed your flesh because you deserve a bowl of ice cream.
Now, I'm not saying these activities are always wrong. You need to train your habits to turn to the Lord, His Word, and prayer for real help. Consistency is key to establishing habits that build up our spiritual life and rid our hearts of sin. We must consistently confess our sins and be cleansed–daily and deeply.
Here are some of my book recommendations that will help you cleanse your heart spiritually:
My Heart, Christ's Home by Robert Boyd Munger (This is a must-read, a classic in Christian literature, and very short but powerful.
What is Repentance by R. C. Sproul (This is an Audible Audiobook: If you're not listening to Audio Books with an Audible Membership yet, start now! it has substantially increased my book reading! While cleaning in the corners and removing all those cobwebs, and decluttering drawers, you could also work your way through book after book. Every time you're in the car on your way somewhere, redeem the time and make it profitable by listening to a book! You and your kids can listen to books while doing chores, cooking, baking, or just relaxing! Note: Allow your children to hear deeper teaching than you think they can comprehend. You will be surprised at what they pick up!)
Shall You Be Saved, by J. C. Ryle. If you've read my blog any time, you know I'm a huge fan of J. C. Ryle, and you've probably read one of the Prayer Series posts from his book, "Do You Pray?" You know that his writing is powerful, and you're in for a convicting read (in a good way).
What Feeds, Fills & Helps Your Heart is your God
There's a fine line; we need wisdom and discernment to know where it is. God doesn't want us to go to other things to feed us, fill us, and be our strength or help us in times of need. That would be an idol. You have to examine your heart and motives.
If you are tempted to do that, you need to resist. This is how Satan gets a foot in the door. He wants us to develop an addiction. He wants us to grow distant from, not closer to, the LORD.
This is one of the purposes of the Checklists for Consistent Daily Routines. (If you haven't gotten them yet, simply subscribe to Your Home For God. They are free!) When you print them and keep them in front of you to keep you accountable, they help you establish consistency in a Morning Routine that includes time in the Word and an Evening Routine that includes time in prayer. They remind you to do what's most important and focus on just a few important things instead of seeking perfection. They prompt you to be in the Word, and to pray, and they help you turn to Jesus Christ in times of need. Subscribe to get them now.
God reminds us in His Word that the spirit is willing, but the flesh is weak. That's why we must fill our hearts and minds with Scripture! Hide it in your heart, He says, that you won't sin–and have your kids memorize it, especially when they're young! It's almost effortless for them to memorize when they're young. Just read one of my Scripture cards each morning in your Morning Time or after breakfast, before they leave for school, or at night before bedtime–and after a few times of hearing it, your children will memorize the verse. If you do one a week, they'll have memorized 52 Bible verses in a year!
"…the spirit is indeed willing, but the flesh is weak."

Matthew 26:41
"Thy word have I hid in mine heart, that I might not sin against Thee."

Psalm 119:11
When Your Heart Is Tempted
One practice I've learned to successfully overcome temptation is to fight those thoughts as soon as they come by praying, "Lord, keep me from temptation and deliver me from evil." (Matthew 6:13) Temptation starts in the mind.
This could be compared to the daily picking up and straightening that I do at the end of the day and right after breakfast in the morning to keep my house clean.
I like to frame Scripture verses and put them where I'll see them frequently. Frame them and put one on the table next to your favorite chair and one on the wall in the hallway–use them as home décor. I put unframed Scripture cards on the fridge, in the bathroom, and in the bedrooms. Keeping your heart clean requires daily attention to your thoughts and emotions and consistency in the daily routine of confessing sin, just as your house needs daily decluttering.
God Is Very Faithful To Help Your Heart Resist
His Word says if we resist the devil, he will flee from us, and if we draw nigh to God, He will draw nigh to us. (James 4:7-8)
Your Heart Doesn't Have to Be Overcome
"There hath no temptation taken you but such as is common to man: but God is faithful, who will not suffer you to be tempted above that ye are able; but will with the temptation also make a way to escape, that ye may be able to bear it."

1 Corinthians 10:13
II. Purge Your Heart of What is Destroying You Inside
You want a strong core in your body and a strong framework or foundation in your home. If your home is not built well, it will collapse. It doesn't matter how well you keep it clean. In your body, the framework would be your bones. You want strong bones.
The Bible says that certain emotions are as rottenness to the bones (envy: Proverbs 14:30), and other heart attitudes are "health to thy navel and marrow to thy bones."
Women are rightfully very concerned about the health of their bones and keeping them strong.
Well, here is a promise from God that He guarantees will work to strengthen your bones! Where else will you find that?
"Trust in the Lord with all thine heart and lean not unto thine own understanding. In all thy ways acknowledge Him, and He shall direct thy paths. Be not wise in thine own eyes: fear the Lord and depart from evil. It shall be health to thy navel, and marrow to thy bones."

Proverbs 3:4-5
What Destroys Your Bones Comes Out of Your Heart
"But if ye have bitter envying and strife in your hearts, glory not, and lie not against the truth. This wisdom descendeth not from above, but is earthly, sensual, devilish."

James 3:14-15
I've never had termites, but I've heard they can be very destructive. If something is destroying the framework of your home, it's a serious thing! Envy and bitterness are like termites in your heart and life. Bitterness will destroy you, your relationships, and your life.
Bitterness and envy eat away at you, and your "house" (your life) soon falls in.
Prevention is Health to your Bones and Your Heart
I've heard that the process of ridding a home of termites is major. Don't let envy or bitterness destroy your "spiritual home," which is your heart and soul–don't let it become major. Immediately forgive everyone for everything. I have help for you as someone who has overcome bitterness. Book a free Strategy Call with me to find out how one-on-one coaching could transform your life!
One step to do that is to remember that God, for Christ's sake, has forgiven you, arranging for the payment for your sins in a very costly way–through the suffering, shedding of blood, and death of His Son, Jesus–and God loved you before you loved Him.
Remember what Jesus says in Matthew 6:14 and 15?
"If ye forgive not men their trespasses, neither will your Father forgive your trespasses."
You need to forgive. This is by the power of the Holy Spirit and with your will. You cannot wait for your emotions to come around before you forgive. The person that bitterness hurts isn't the other person, it's you. And it will have physical repercussions, as well as spiritual and emotional. It will hurt your heart, your body, and your soul.
You don't want the framework of your body and life to be rotten to the core. That's what will happen if you harbor bitterness and envy in your heart.
Deep Cleaning Your Heart: Questions To Ask
Are there any major sinful

attitudes I need to confess?
Do I feel genuinely happy when others succeed, get something new, receive attention

or they're praised?

Do I feel offended by anyone?

Hurt? Disappointed?
Can I immediately list things that someone has done against me?

Is there anyone I'm avoiding?

Do I get easily offended

or angry

? Do I give

the "silent treatment" to others? Do I think I can punish them somehow when I am hurt rather than communicating with them?

Have I a habit of bringing up old grievances?

Do I think I'm better than others I'm offended by?
"I ask whether you pray because diligence in prayer is the secret of eminent holiness."
Wendy Gunn
In our church, we have communion weekly. This is a time when we are encouraged to examine our hearts. For me, this is a reminder to get things right with God.
Just as I do a weekly general cleaning of my home, I need to, at least weekly, apply Matthew 5:23-24, "Therefore if thou bring thy gift to the altar, and there rememberest that thy brother hath ought against thee; Leave there thy gift before the altar, and go thy way; first be reconciled to thy brother, and then come and offer thy gift."
Keep short accounts. Ask forgiveness of anyone you've offended, and forgive anyone who's offended you.
There is a Place For Deeper Cleaning Of Your Heart
There is more need for deeper cleaning of your heart, soul, and mind than deep cleaning of your home. Spring and fall cleaning have their place and are needed, but you may have neglected them without too many negative effects.
However, just as you might need to get down on your hands and knees and dig into the corners and under the bed when you do a deeper cleaning…
Even as you would climb up on a chair or ladder to reach the corners of the ceiling to dust the cobwebs and clean the ceiling fans…
So, even more, you must be willing to do whatever is necessary to dig into the deepest recesses of your heart, soul, and mind and let Christ cleanse you thoroughly through the Spirit and the Word. Through confession and forgiveness.
So we've answered the question of How to Cleanse Your Heart Spiritually and what it means to purify your heart. We've said that you must
Be saved by Jesus first.
Then confess your sins as soon as you know of them, and ask God to forgive any unknown sin.
Regularly and consistently evaluate your heart to see if there is sin, bringing it into the light of God's Word and comparing it.
Then changing/repenting of sin and turning back to God.
Prioritizing spiritual deep cleaning is necessary to look into the deepest corners of your life and heart and ask God to cleanse you, studying the Word more deeply, memorizing it, fasting, and praying.
Comparing spiritual heart cleansing with fall cleaning in your house, we can see that it takes work, but in the spiritual realm, it is actually giving our heart to God, and He does the work of cleansing us. Get your heart right with God.
Consistently cleanse your heart spiritually. It takes but one step back to God. Return with a repentant heart. Don't give Satan a foothold in your life.
Important Related posts:
Righteous Living Routines (routines you can set up in your life to help keep your heart spiritually clean after you have accepted Jesus into your heart)
Consistency is so important in your life! Read "Consistency, Prioritizing, and How You Can Stop Struggling With Them"! Don't forget to subscribe for your FREE Checklists for Consistent Daily Routines. And, if you'd like to know how to prioritize what's most important, know who God uniquely created you to be, what to do, and have a plan for how to get it done, get Mastering Your Goals!