How To Get Organized for the Holidays
You want to get organized for the Holidays and have a great christmas
I hope you're following along with this series on "How to Schedule For a Calm, Christ-Centered Christmas." You may feel like, "It's way too early to think about Christmas!" You want a memorable Christmas this year, so let's get organized for the holidays, ok? Because, you may be like me and Christmas was not picture-perfect last year! Were you super stressed? Did you feel like you were going crazy? Did you hate being so busy? Did you lose it around mid-December? I have been there and done that, and so, let's schedule differently this year:) (Scroll down to watch my video:)
How to Get Organized for the Holidays.
Click on the links below to Read all the Posts in "How to Schedule for a Calm, Christ-centered Christmas" (8-Weeks' Schedule):
A Schedule to Get Organized to make Christmas memories
Why do you do the things you do for the holidays? Here are a few of the reasons you may have:
1) You want your family to have wonderful memories of Christmas.
2) You want it to be about Jesus' birthday.
3) You love the memories you have of Christmas growing up.
But, if you think back on memorable Christmases, they may not have been "perfect"! Was it all about the gifts? (Here is the post on ideas for Gifts for Guys I mention in the video along with other tips.)
One special memory I have is the Christmas that our first baby was born (he was born December 20th:)! Yes, that is pretty special! But, we had to celebrate with my husband's dad in a wheelchair in the hospital, because he'd had a run-in with a bull! (He was a dairy farmer.) He was bruised, and in a hospital gown in the family pictures, with our newborn baby in a basket!
That was not exactly how we'd planned it! We were together as a family, though, and there was a lot of love. We were celebrating Jesus Christ's birth, and that's what it's all about.
Disclaimer: This post contains affiliate links, which just means that I may get a small commission if you click on an affiliate link and as a result make a purchase. I only recommend products and services that I use myself, know to be excellent quality, and/or know will help and benefit you!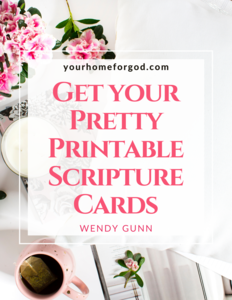 Click to Get Your Free Pretty Printable Scripture Cards. Use them all over your house to draw your family closer to the Lord!
organized for the Holidays doesn't mean perfect
Actually, that is another reason why that Advent was so special for me. I was very pregnant and as I read in my Bible about the plan of God for Jesus to come into the world, and the days and weeks prior to His advent into the world, I was keenly aware of the very human aspects of the story.
God chose for Jesus not to bypass a human mom and a human birth. He sent Jesus as a baby to this world, and into a family. The Bible records in Matthew 13:55-56 that Jesus had at least 4 brothers and at least 3 sisters (for it says "are they not all with us," and names the brothers: "Is not this the carpenter's son? is not his mother called Mary? and his brethren, James, and Joses, and Simon, and Judas? 56 And his sisters, are they not all with us?" So Jesus was the oldest of at least 8 children. (Joseph isn't mentioned after Jesus was 12, so it is presumed that he died at some point before Jesus was in his 20's and before His 3-year ministry on earth.)
There is NO Perfect Family Christmas.
The thought of being very pregnant as I was and riding on a donkey for a long trip made me shudder. And, imagining having my first baby and not knowing how or where I would go through labor and delivery, made me admire the faith and trust of Mary. And, then, how many of us wives would have been ok with the pre-planning of our husband, if we arrived and there was no room for us in the hotel?
But, if Mary and Joseph had read the Books of the Prophets, which of course they had, they would have known the circumstances prophesied of the Messiah's (of Jesus') birth, and perhaps God gave them pre-knowledge of these events, as well, since He told them they would have a boy whose Name was to be Jesus, and that He would save His people from their sins. He was to be born in a stable in Bethlehem.
"When I had my first baby at Christmas time, I couldn't imagine experiencing the way Jesus' birth took place, and where, but God planned it that way, with special spiritual symbolism in every detail, and the most perfect plan." Wendy Gunn
A picture-perfect christmas
So, those reasons listed above are great reasons to try to make Christmas special for your family! And, since you want it to be special, I encourage you to schedule, and plan ahead as much as possible. Otherwise not being able to meet your expectations and desires will leave you feeling disappointed and exhausted. Aim for progress, though, and not a Picture-Perfect Christmas🙂 Think about Jesus' birth, and how God planned it. If you were living through it, it may have felt like everything was going wrong, and yet it was just as God wanted it.
How to Get Organized for the Holidays.
Here is my 8-week Schedule for a Calm, Christ-Centered Christmas, to have you pretty much finished with the major things in preparation for Christmas by Thanksgiving! (If you start by November 1st, you'll get it done by Christmas. However, start when you can, and do what you can! Being a little ahead is great, too! Make a plan to start earlier next year!
If you finish by Thanksgiving, this will leave you the month of December to really focus on Jesus, celebrating Him, spending time with your family, worshiping, doing any fun Christmas activities you want–maybe even spontaneous ones–doing crafts, fun Christmas baking, and actually enjoying the pre-planned events that happen!
Week 3: Here is your Schedule for a Calm, Christ-Centered Christmas (detailed in the video)
Take your Christmas photo, if you haven't yet (if you live where there are 4 seasons, you may want to take the photo when the leaves are at their peak of color)

Get your Christmas photo reprinted

Address one third of your Christmas Cards

Plan to Buy one fourth of your Christmas gifts this or by this week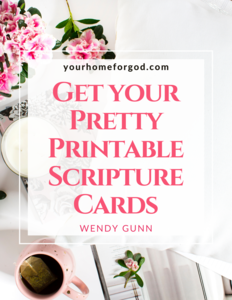 Click to Get Your Free Pretty Printable Scripture Cards. Use them all over your house to draw your family closer to the Lord!
This Series is not to make you put pressure on yourself. It's to encourage you. It's not to make you have a list of additional things to do. Don't feel like you have to do any of it! But, if you are already doing a lot of these things, then here are tips for getting them done ahead.
When you Don't Know What Will Happen.
"
We don't know what tomorrow will bring, but let's get organized for the holidays, and plan for a Calm, Christ-Centered Christmas this year.
Wendy Gunn
"
We don't know the future, and there's been a lot of uncertainty this year. That is the world Jesus was born into, too. We can trust that God knows, and He is in control. Let's plan, and get organized for the holidays because, if you want a Calm, Christ-Centered Christmas, you have to schedule it. Plan now. It may not go exactly as you planned, but you'll be much more ready for whatever happens with a plan, and many of the preparations for Christmas completed ahead of time. Keep reading for all my 8-week Schedule for a Calm, Christ-Centered Christmas!
Click on the links below to Read all the Posts in "How to Schedule for a Calm, Christ-centered Christmas" (8-Weeks' Schedule):
Have a Great Week Making Your Home For God!
P.S. Check out "A Thankful Thoughts Journal" to remake your mornings and have a thankful family!
Struggling with parenting? Watch my YouTube video on How to Get Kids to Help and here's my Video Course, "Raising Godly Kids"! There's a 30-day 100% money-back guarantee, so there's nothing to lose! Get help today!
I teach moms to raise children for God, accept how God uniquely created them (and their families), and get their lives organized for God's glory, through Mentoring, Courses and Coaching.
Subscribe to My YouTube Channel for more Encouragement and Tips! And, If you liked this post, Share it!
Share it on Facebook, Pinterest, Instagram, and Twitter. You might also like my Facebook live videos. Follow my Pinterest Boards: Christian Living Life, Homeschooling, Christian Parenting, Organization, and Goals on Pinterest. You'll find helpful tips and encouragement for your home and family. I pray for my subscribers–subscribe today and let me know what you need prayer for!
@pinterest.com/WendyGunnYourHomeForGod
@facebook.com/wendygunnyourhomeforgod
@instagram.com/wendygunnyourhomeforgod
Your Home For God Blog: yourhomeforgod.com
Contact me at: [email protected]