How to Disciple Your Kids and Get Self-Care for Homeschoolers
Discipling kids and Self-Care for Homeschoolers
We spend our days raising kids, which turn into weeks, and then years, and as in planting and sowing, we trust that God will give an increase, as we parent and disciple our children. What joy it is, and I can't compare it to anything else, when you then have grown children and your child gets excited just talking about the Bible and spiritual things! Nothing like it! But, as you're doing the work of parenting, you need support, encouragement, direction, help along the way. Here is help to disciple your kids, and get the self-care you need as a Homeschooler.
Update: This is Going on Now! Get your ticket and do not miss this event! So much encouragement, so much truth, and Biblical wisdom. For your faith to be built up, your worldview to be adjusted, and for such a time as this–we all need this Upgrade Summit! Click to get your ticket–no longer free, but a steal!!
Homeschool Upgrade Online Summit, October 12-16, 2020
I hope you're having a great day today! It's Friday, and a beautiful fall day here in Minnesota. The weather is about 80 degrees (pretty unusual for October in Minnesota) and it is peak color for the leaves turning, so it's gorgeous. Here's my tree (you know how it goes–the picture doesn't do it justice:) the copy of the photo and through a screen–I guess you had to be there, but just take my word for it, it has been beautiful:)
Disclaimer: This post contains affiliate links, which just means that I may get a small commission if you click on an affiliate link and as a result make a purchase. I only recommend products and services that I use myself, know to be excellent, and that will help and benefit you!
My Tree! It's beautiful this year!
Though I'm enjoying how gorgeous it is outside, in the hearts of people I hear so much uncertainty and fear, and I know these are trying times, and there seems to be a floating anxiety everywhere. So, how are you doing? I'm praying for you! In my own heart and mind, if I focus on the positive thoughts, on what I know to be true from the Word of God, and practice thankfulness, remembering to keep my eyes on Jesus, I do pretty well. We all need help to get through this! And, I want you to know I'm here for you.
I've found it is so important to just do the next thing, as Elisabeth Elliot always said. To learn to be disciplined. Not to go by my feelings or let my emotions direct me, but let the Holy Spirit be my guide. My mom always said, "This, too, shall pass." And, that, too, is so true. God is still on the throne. He is in control. And we can trust in our Loving Heavenly Father.
What do i know about my god
What do I know about my God, and how does that affect my response to any situation? That's something I learned in the Bible Study/Business course called, "Doing Business With God," which I took a couple of years ago. I recommend it to you, if you are a Christian businessperson.
No matter who you are, I encourage you to dive deep into discovering Who God is when you are fearful, apprehensive, feel that floating sense of discouragement, fear, or depression and it rears its ugly head, which is easy to have happen in these times.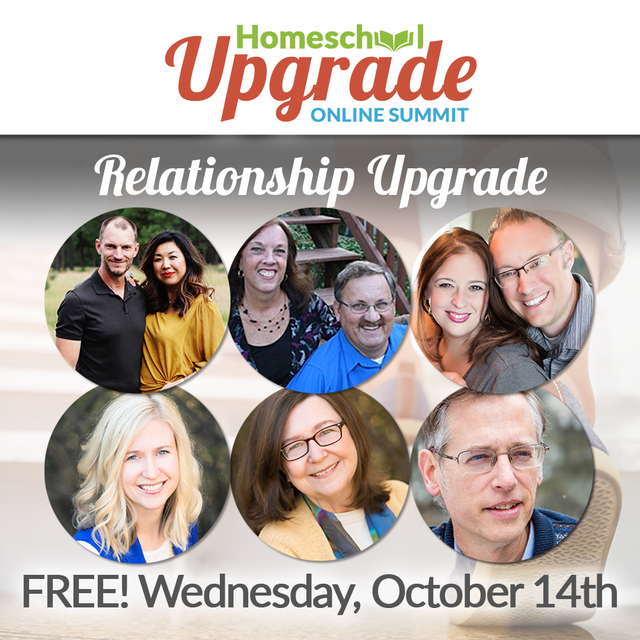 Relationship Upgrade Wednesday, Homeschool Upgrade Online Summit, Oct 12-16, 2020
I Got So Excited When I Found This Out!
So, talking about discipling your kids, let me tell you a story. About a year or so ago, our grown son, Dane, was having dinner at our house, and with obvious passion was sharing with us, profoundly impacted, about the book he was reading (actually he was listening to it, because he has an Audible membership), by Rosaria Butterfield. Have you heard of her?
It thrilled me to hear him so passionate about sharing the gospel and lifestyle evangelism, opening your home in order to have an impact for Christ. We had some of the most fabulous conversations, on more than one occasion, bouncing off of what he was hearing in this book. Here is the summary of that book, The Gospel Comes with a House Key, from her website:
Rosaria Butterfield
In her third book, The Gospel Comes with a House Key: Practicing Radically Ordinary Hospitality in Our Post-Christian World, Rosaria explores how God used a humble couple's simple invitation to dinner to draw her—a radical, committed unbeliever—to himself. With this story of her conversion as a backdrop, she invites us into her home to show us how God can use this same "radical, ordinary hospitality" to bring the gospel to our lost friends and neighbors. Such hospitality sees our homes as not our own, but as God's tools for the furtherance of his kingdom as we welcome those who look, think, believe, and act differently from us into our everyday, sometimes messy lives—helping them see what true Christian faith really looks like.
Rosaria is zealous for hospitality, loves her family, cherishes dogs, and enjoys coffee.
God had obviously moved our son to think deeply about lifestyle evangelism and hospitality (hospitality is something we are passionate about and he had been a part of, seeing it practiced exceedingly in our home while he was growing up). It was wonderful to have deep talks with him about Biblical hospitality, sharing the gospel, how to impact people for Christ, and to watch him grow in Christ!
So, imagine my excitement when I saw the list of speakers for the Homeschool Upgrade Online Summit (starting this Monday, October 12-16, 2020) and that it included Rosaria Butterfield! I'm so excited to hear her speak! This conference is going to be amazing! Other speakers I can't wait to hear and who are on my do-everything-I-can-to-not-miss list are: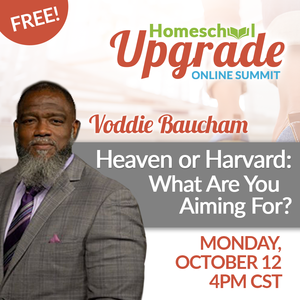 Voddie Baucham, Keynote Speaker at the Homeschool Upgrade Online Summit, Oct. 12, 2020
Voddie Baucham, who will be a Kickoff Speaker on Monday, October 12, 2020, speaking on: "Heaven or Harvard, What are you aiming for?" (My husband recently heard him speak online, and raved about him, as well:) If you want to be challenged, strengthened, and encouraged in your walk with the LORD, in discipling your kids, and Homeschooling, hear Voddie Baucham speak!
Ruth Chou Simons, author of "Gracelaced, Beholding and Becoming" (she is someone our daughter, Kelsey, has recommended to me:) (In fact, she gave me a gift card to get something from her Gracelaced website:)
Why Should You Care and What is Our Mission as Parents?
""Our mission as parents is monumental: To raise our children to be disciples of Jesus Christ who know their God and seek His Kingdom above everything.""
Our mission as parents is monumental: To raise our children to be disciples of Jesus Christ who know their God and seek His Kingdom above everything.
But wow — is it ever a fight to stay on target! (Can I hear a hearty Amen to that?!)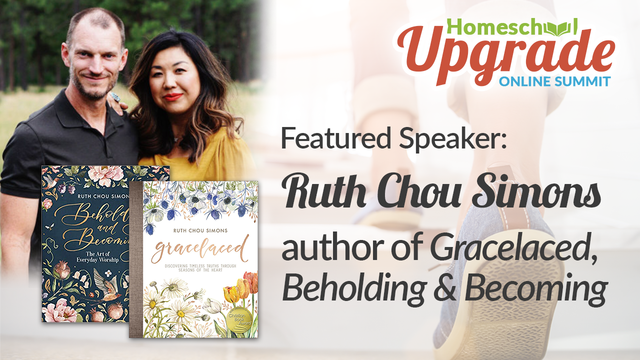 Ruth Chou Simons, Featured Speaker, Homeschool Upgrade Online Summit
Our enemy knows the power of our mission, and he'll use any means possible to keep our eyes down, looking to worldly success or anything that isn't true success. We're confronted by anti-God systems and patterns everywhere we turn, even in our own Homeschool cupboard, and especially in our own hearts.
We've got to keep looking to Christ and find a way to integrate a God-centered mindset into our children's education. It'll take a serious upgrade from where we're at now — and then? It will impact eternity.
Remember, You're Discipling Tomorrow's Leaders
Should the LORD tarry, and our children still have a world to impact, they will be the leaders of tomorrow! Never forget that if you still have children under your roof, you are raising the leaders of tomorrow! Discipling your kids is so important! The Homeschool Summits have all been amazing, but I'm more excited for this one, I think, than I've ever been, because of the opportunity to hear speakers who have impacted my grown kids so profoundly, and can impact you and your kids!
Why you should care, is that I know you need the support and encouragement that you will find in the Homeschool Upgrade Summit to get back to your mission: to climb past the distractions of worldly success and UPGRADE your vision, relationships, academics, and success — to a life of victory and joy through family discipleship. Don't just get through, get through victoriously!
Register now for this online event, coming October 12-16, 2020 — free for a limited time!
Homeschool Upgrade Online Summit, Free Oct 12-16, 2020
The event features over 20 exclusive video sessions with world-class speakers who will share their wisdom with one purpose in mind: To raise our children so that in our families — as in everything! — Christ might have the preeminence.
Each day focuses on upgrading a specific area of your Homeschool:
Monday: Keynote sessions (Don't miss the Keynote session with Voddie Baucham!)
Tuesday/Day 2: Vision Upgrade–Cultivate your child's discipleship and educational journey with their eternal calling in view, with Rachael Carman, Kevin Swanson, and more
Wednesday/Day 3: Relationship Upgrade–Intentionally pursue relational health as the key to lifelong discipleship, with Ruth Chou Simons, Heather Haupt, and more
Thursday/Day 4: Academic Upgrade–Discover the simplicity of a God-centered education that develops your child's love for learning and worship of God, with Tauna Meyer, Victoria Botkin, and more

Friday/Day 5: Success Upgrade–Launch your children into life to courageously seek first the Kingdom for the glory of God! With Rosaria Butterfield and more!
Here are some of the other speakers I'm excited about!
Tauna Meyer
Kelly Crawford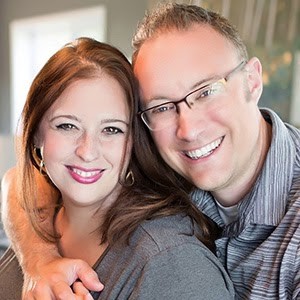 Luke and Trisha Gilkerson
So, How's It Work?
The Homeschool Upgrade Summit is a week-long conference with video interviews— very much like having coffee with your favorite speakers! I really love this format. And, as always, it's FREE the week of October 12-16, 2020, and also features the Homeschool Summits Exhibit Hall (with lots of only-here discounts) so you can invest intentionally into what's best for your family. And, as always, you can get an all-access pass so you can have these to listen to/watch, at your convenience, forever! I'm sure you put away money to go to a Homeschool Convention, and for curriculum every year, so consider spending it on this; you can look at it as self-care for Homeschoolers:)
The entire event is FREE if you sign up by Monday, October 12th, (that's this weekend!) and in addition to the video sessions, you'll also get access to an online exhibit hall (with exclusive discounts and freebies) and a private Facebook group to connect with the Homeschool Summits community.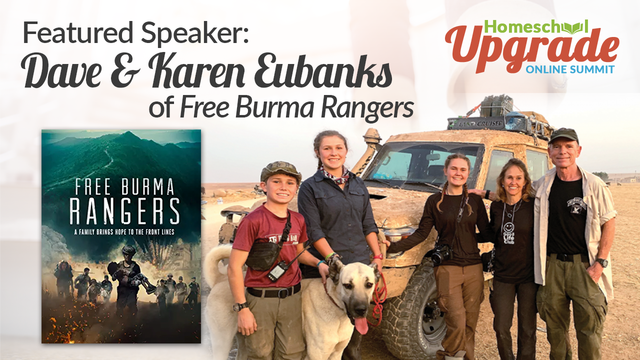 Dave & Karen Eubanks of Free Burma Rangers Homeschool Upgrade Online Summit
By God's grace, you'll have your mind blown in all the best ways through this event — so you can walk away with applicable, Scriptural truth for seeing your family flourish as you invest in discipleship, and receive the encouragement from the Word which is the True Self-Care:)
I encourage you to sign up today for the Homeschool Upgrade Summit to find freedom and victory in a life of family discipleship, all for the glory of God!
Don't wait! Learn more and register for free (for a limited time only!) at Homeschool Upgrade Online Summit.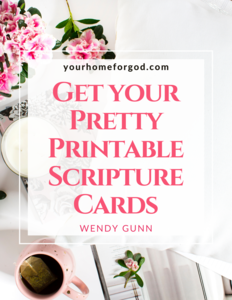 Click to Get Your Free Pretty Printable Scripture Cards. Use them all over your house to draw your family closer to the Lord!
Have a Great Week Making Your Home For God!
P.S. Check out "A Thankful Thoughts Journal" to remake your mornings and have a thankful family!
Struggling with parenting? Watch my YouTube video on How to Get Kids to Help and here's my Video Course, "Raising Godly Kids"! There's a 30-day 100% money-back guarantee, so there's nothing to lose! Get help today!
I teach moms to raise children for God, accept how God uniquely created them (and their families), and get their lives organized for God's glory, through Mentoring, Courses and Coaching.
Subscribe to My YouTube Channel for more Encouragement and Tips! And, If you liked this post, Share it!
Share it on Facebook, Pinterest, Instagram, and Twitter. You might also like my Facebook live videos. Follow my Pinterest Boards: Christian Living Life, Homeschooling, Christian Parenting, Organization, and Goals on Pinterest. You'll find helpful tips and encouragement for your home and family. I pray for my subscribers–subscribe today and let me know what you need prayer for!
@pinterest.com/WendyGunnYourHomeForGod
@facebook.com/wendygunnyourhomeforgod
@instagram.com/wendygunnyourhomeforgod
Your Home For God Blog: yourhomeforgod.com
Contact me at: [email protected]