How to Homeschool Without Comparing, Copying, or Coveting
Homeschooling Without Comparing
If you've read any of my blog posts here you've heard me say that you are uniquely created by God, and so is your family. Why do we think, then, that our home, family, and Homeschool are going to look like someone else's, when everything about us is unique? Why do we compare? Maybe because we want to get it perfect, and we keep trying what someone else is doing, worrying that we'll miss out on something. But, that leads to frustration and discouragement. Do you feel like you're all over the place, trying to do All. The. Things? Read on, because to Homeschool Without Comparing, Copying, or Coveting, requires confidence, not in ourselves, but in God!
How to Homeschool:
Maybe you're that mom who has been thinking about Homeschooling, and this is just the chance to try it out, but you have no idea where to begin! Old, new, or somewhere in between, there's something for you here. Read these posts for encouragement and help for Homeschooling, no matter where you are on the journey.
How To Homeschool and Grow In Confidence
You have a fabulous opportunity to gain confidence by sitting at the feet of some of the best teachers: veteran Homeschool moms! Experts, experienced Homeschoolers. Joining a blog series, or attending a conference is a great way to network, but also to learn so much that you can go home and practice or apply right away!
If I am uniquely created by God, and my family is unique, why do I think I must compare, copy, and covet others' Homeschools and lives?
Homeschooling without comparing, copying, or coveting is only done by God's grace, in the power of the Holy Spirit. If we have been accustomed to knowing we are uniquely created by God growing up, being led by the Holy Spirit, dying to our flesh, taking up our cross, as we lived under our parents' authority and in their home, it will be much easier as adults to Homeschool our children that way.
Our children will copy us–it's inevitable. Will that example be something they spend the rest of their lives trying to overcome, or will it make them soar ahead with spiritual strength and success in every area?
Moms, are you listening? This is another reason why you are so important. We are not perfect. We're still growing in Christ as we Homeschool. As God works on us, and we work on ourselves, attempting to live, love, and Homeschool without comparing, copying, and coveting, we are impacting our kids, who are watching us, and copying us, but this is a GOOD copying!
Our children will copy us. They will follow our example–it's inevitable. Do we want it to be one they are trying to overcome for the rest of their lives, or will it enable them to so much more easily follow and obey the Lord? We want their copying us to lead to spiritual success, and success in so many ways. That's why it's so important that we work at learning How to Homeschool without comparing, copying, or coveting.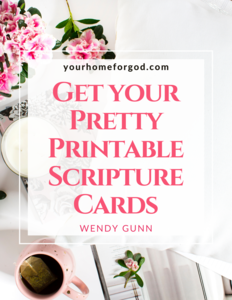 Click to Get Your Free Pretty Printable Scripture Cards. Use them all over your house to draw your family closer to the Lord!
There was an awesome Series, "HELP! For the Homeschool Mom," at My Joy-Filled Life! I was a Contributor in that–so blessed–and you can read additional thoughts on this subject, "How to Homeschool Without Comparing, Copying, or Coveting" there!
Have a Great Week Making Your Home For God!
I help overwhelmed young moms grow spiritually with joy in who God uniquely created them (and their family) to be, raise Godly kids, and get their lives together for God's glory, through Books, Conferences, Courses, and Coaching.
Want help getting clarity on what tasks to be doing as a mom and prioritizing them? Get "Raising Godly Kids"–help from a mom of grown children who has been there. You can be consistent and there is parenting help available.
Subscribe to My YouTube Channel for more Encouragement and Tips!
If you liked this post, Share it on Facebook, Pinterest, Instagram, and Twitter. You might also like my Facebook live videos. Follow my Pinterest Boards: Christian Living Life, Homeschooling, Christian Parenting, Organization, and Goals on Pinterest. You'll find helpful tips and encouragement for your home and family. I pray for my subscribers–subscribe today and let me know what you need prayer for!
@pinterest.com/WendyGunnYourHomeForGod
@facebook.com/wendygunnyourhomeforgod
@instagram.com/wendygunnyourhomeforgod
Your Home For God Blog: yourhomeforgod.com
Contact me at: [email protected]