Praying Homeschoolers Help When The World Has Gone Crazy
Praying for authorities and leaders
Do your kids see you worry, gripe, and complain, or praying as the world has gone crazy? Praying Homeschoolers help when the world has gone crazy, which it certainly has. Are you raising up Godly kids who will be leaders, prayer warriors, and world-changers?
We do this by Prayer, Example, and Teaching or Training. The acronym to help you remember this is PET. (Read my post and watch my video on Prayer, Example, and Teaching.) It's tempting to say, "Has our country ever needed prayer more?" Because it needs prayer so much! But, this isn't the only time in history that we have been in desperate need of prayer–don't we always need to pray?–the world is not getting better, contrary to popular belief, and our country desperately needs to return to God!
The events we have gone through this year, 2020, should be a wake-up call for us. We need to fall on our faces before the Lord, repent of our sins, and cry out to Almighty God, the Father of our Lord and Savior, Jesus Christ, for mercy, and forgiveness!
Praying Homeschoolers Help When the World Has Gone Crazy | Your Home For God
Are you praying for authorities or just complaining
I recently led a 5-Day Prayer Challenge to pray for our country (and world), and there's no doubt that it's still needed! I encourage you to watch my Facebook Live replays, and continue to join me in prayer (I pray at the end of each video, too) for our country! And, share them and these posts, and subscribe to get printables that will help you have a more Christ-centered home and family.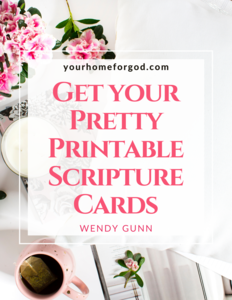 Click to Get Your Free Pretty Printable Scripture Cards. Use them all over your house to draw your family closer to the Lord!
Commentary on exhortation to prayer for leaders
I think I mentioned recently that I've downloaded the free Bible study app called e-sword. In my reading today from 1 Timothy 1-3, I read the familiar verses on prayer for authorities:
"
I exhort therefore, that, first of all, supplications, prayers, intercessions, and giving of thanks, be made for all men; 2 For kings, and for all that are in authority; that we may lead a quiet and peaceable life in all godliness and honesty.
3 For this is good and acceptable in the sight of God our Saviour; 4 Who will have all men to be saved, and to come unto the knowledge of the truth,
5For there is one God, and one mediator between God and men, the man Christ Jesus; 6 Who gave himself a ransom for all, to be testified in due time.
1 Timothy 2:1-4
"
Paul then speaks to men, "I will therefore that men pray every where, lifting up holy hands, without wrath and doubting."
I went to e-sword to study further, and found this commentary extremely relevant in light of current events in our country.
F. B. Meyer: "It is our duty to pray for those in authority, and to seek after a calm and quiet life in all godliness and gravity. It was most important that Christians should not be suspected of revolutionary designs or civic turbulence. If they had to suffer, it must be only on account of their religious faith. The solidarity of our race is the reason for our wide-embracing supplications. The whole race is one in the creation of God and the ransom of Christ; we are therefore one with all men, and should express in prayer the common sins and sorrows of mankind."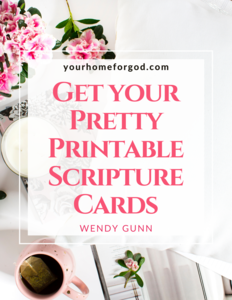 Get your Pretty Printable Scripture Cards today! Just Subscribe to Your Home For God for help, encouragement, and helpful tips for you as a wife, mom, and Homeschooler!
prayer was removed from schools but not homeschools
Homeschoolers are planning all the time. Choosing curriculum is so important. As a Homeschooler, let me encourage you to make the Bible your #1 textbook, and Prayer your #2 subject, after study of God's Word.
Prayer was taken out of schools in America, but not out of Homeschools! No one can stop you from praying yourself! And, as a Homeschool family, you'd better be praying together, and teaching your children to rely on God, not themselves, and take everything to the Lord in prayer!
When you go through a crisis is when you know how strong your faith is, and what your house is built on. God's Word tells us, "Therefore whosoever heareth these sayings of mine, and doeth them, I will liken him unto a wise man, which built his house upon a rock: 25 And the rain descended, and the floods came, and the winds blew, and beat upon that house; and it fell not: for it was founded upon a rock. 26 And every one that heareth these sayings of mine, and doeth them not, shall be likened unto a foolish man, which built his house upon the sand." (Matthew 7:24-26) What has this crisis revealed about your house and its foundation? Build on the Rock, Jesus Christ, and the Word of God.
It will not matter what your children learned in school, or whether they graduate and go on to college, get a good job, or any of the things that this world says are important, if you haven't taught them to love the Lord, their God, with all their heart, soul, mind, and strength. And to love others as themselves.
I see people who call themselves Christians acting in un-Christlike ways. I read just this week someone complaining about the way they were treated online by "Christians," and I want to remind us all that the Bible teaches us to try the spirits, and that not all who name the Name of Jesus belong to Him.
He will say to many one day, "I never knew you." Make sure Jesus Christ knows YOU and you know Him. The Shepherd knows His sheep and they know Him. ("I am the good shepherd, and know my sheep, and am known of mine." John 10:14) Obey the Word of God, and have the Word of God dwelling richly in you.
"Let the word of Christ dwell in you richly in all wisdom; teaching and admonishing one another in psalms and hymns and spiritual songs, singing with grace in your hearts to the Lord." (Colossians 3:16)
"
"Not every one that saith unto me, Lord, Lord, shall enter into the kingdom of heaven; but he that doeth the will of my Father which is in heaven. 22 Many will say to me in that day, Lord, Lord, have we not prophesied in thy name? and in thy name have cast out devils? and in thy name done many wonderful works? 23 And then will I profess unto them, I never knew you: depart from me, ye that work iniquity."
Jesus
"
This world has definitely gone crazy, but God's Word is true always, for eternity. Jesus Christ is the same yesterday, today, and forever. Prayer changes things, because of God's promises, and that is our Heavenly Father Who we are praying to. Praying Homeschoolers make a difference when they pray together!
Teach your children these truths, prayerfully asking God for wisdom and that your children would be saved–that faith and obedience would dwell in your children, as well as you. Be the example that God wants you to be, humbly ask forgiveness when you have sinned or are wrong, and live according to God's Word. Teach your children the truth, pray earnestly, and live out your beliefs, based on the Word of God, according to what is truly important, always praying for them and our country.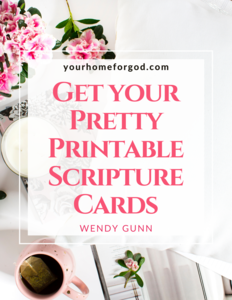 Get your Pretty Printable Scripture Cards today! Just Subscribe to Your Home For God for help, encouragement, and helpful tips for you as a wife, mom, and Homeschooler!
Have a Great Week Making Your Home For God!
P.S. ​Struggling with parenting? Here's my Video Course, "Raising Godly Kids"! There's a 30-day 100% money-back guarantee, so there's nothing to lose! Get help today!
I help overwhelmed moms grow spiritually, with joy in who God uniquely created them (and their families) to be, raise Godly kids, and get their lives organized for God's glory, through Mentoring, Courses and Coaching.
Subscribe to My YouTube Channel for more Encouragement and Tips!
If you liked this post, Share it on Facebook, Pinterest, Instagram, and Twitter. You might also like my Facebook live videos. Follow my Pinterest Boards: Christian Living Life, Homeschooling, Christian Parenting, Organization, and Goals on Pinterest. You'll find helpful tips and encouragement for your home and family. I pray for my subscribers–subscribe today and let me know what you need prayer for!
@pinterest.com/WendyGunnYourHomeForGod
@facebook.com/wendygunnyourhomeforgod
@instagram.com/wendygunnyourhomeforgod
Your Home For God Blog: yourhomeforgod.com
Contact me at: [email protected]