How to Celebrate Valentine's Day with the Real Story
Celebrate Valentine's Day with the real story
Read the Story of Valentine's Day To Your Family
Do you know the real story behind Valentine's Day? In the United States and elsewhere, celebrating Valentine's Day is an accepted practice, but do you know why we celebrate it? Is it just a sweet holiday and excuse to give cards, go out, or buy candy or flowers? Let me encourage you to read about the man behind Valentine's Day. Also, scroll down for a list of my posts (because of Titus 2) to encourage and help you prioritize your family and teach you how to love your husband and children better and more consistently according to God's Word.
Do You Know The Story of Valentine's Day?! Happy Valentine's Day! The Story of St. Valentine: More than Cards and Candied Hearts
If you like read-aloud books that all the family will enjoy, and you want to include Dad in your Homeschooling, I recommend this book. You'll also want to check out my post of my favorite character-building books for kids, called "The Best Character-Building Books for Kids."
Teach your children the Christian perspective on this holiday with this beautifully illustrated, easy-to-understand book by Voice of the Martyr's: The Story of St. Valentine: More Than Cards and Candied Hearts
Do you know the real story of Valentine's Day?! This is an excellent book to read to your children to stir their hearts and remind us all of the sacrifices made by Godly saints of the past! Get this book and read the Real Story behind the celebration of Valentine's Day!!! A beautifully illustrated book with a powerful message of love!
Read this Amazon Review:
"As a retired elementary school librarian of 20 years, I was looking for a book with a Christian perspective on Valentine's Day for my grandchildren–ages 8, 6, 5 and 3. This was perfect! Large colorful illustrations, right amount of text, easy-to-understand vocabulary and the essential facts of this brave & loving man who chose to be faithful to his God. I thought it was more child friendly than Robert Sabuda's Saint Valentine."
Valentine's Day and the story of St. Valentine reminds us of the subject of love, so I thought I'd encourage you in your love towards your husband and children, since God gives older women instruction in Titus 2:4: "That they may teach the young women to be sober, to love their husbands, to love their children."
Here are some of my favorite posts to help you love your husband:
And, How to Love Your Children (Better and be more consistently loving, training, and teaching):
"It's More Than Cards and Candied Hearts…"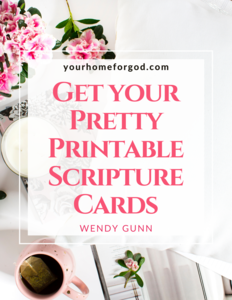 Subscribe to Get Your Free Pretty Printable Scripture Cards. Use them all over your house to consistently prioritize God's goals for your family, home, and life!
How do you celebrate or how will you celebrate this year? Share in the comments! Do you do anything special with your spouse or with your kids?
Have a Great Week Making Your Home For God!
I help overwhelmed young moms find consistency and clarity in prioritizing God's goals for their unique family, home, and life through Courses and Coaching.
Need a step-by-step process to organize the heart of your home? Get "How to Organize Your Kitchen to Save You Time" now!
Want clarity on parenting and what to prioritize? Get "Raising Godly Kids"–a course from a mom of children who were Homeschooled all the way through, now grown and walking with the LORD.
Subscribe to My YouTube Channel for more Encouragement and Tips!
If you liked this post, Share it on Facebook, Pinterest, Instagram, and Twitter. You might also like my Facebook live videos. Follow my Pinterest Boards: Christian Living Life, Homeschooling, Christian Parenting, Organization, and Goals on Pinterest. You'll find helpful tips and encouragement for your home and family. I pray for my subscribers–subscribe today and let me know what you need prayer for!
@pinterest.com/WendyGunnYourHomeForGod
@facebook.com/wendygunnyourhomeforgod
@instagram.com/wendygunnyourhomeforgod
Your Home For God Blog: yourhomeforgod.com
Contact me at: [email protected]